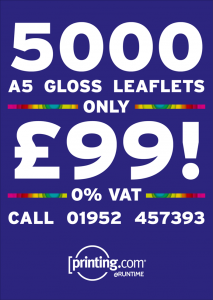 We specialise in saving businesses like yours money on full colour print, we're up to 76% cheaper than other high street printers, independently verified by Storecheckers.
Proud to be part of the printing.com network of over 300 outlets around the UK, Europe and USA, printing.com@runtime has access to state of the art printing equipment and expertise to compliment our design and marketing ideas here in Telford.
We upload your design files directly to the press scheduling system and we get your print turned around in guaranteed time scales or you don't pay.
This is the page on the website where our inky-fingered colleagues wax lyrical about XM cross-modulated screening and stuff but all I say is check out what people say about us here and the printing.com website here.
Want to come and see us, take away some samples?  We'll get the coffee on! Call us on Telford 457392 or just drop in.