A local dog lover has turned her passion for pooches and love of the Shropshire countryside into a book that allows dogs and their owners to explore the Ironbridge and Coalbrookdale areas by foot (or paw!)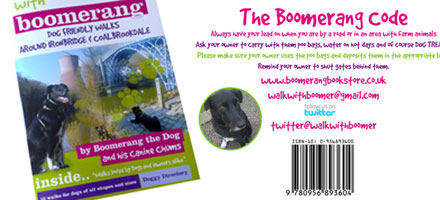 Author Karen Lloyd, who lives in Ironbridge and has a day job in sales and marketing, wrote and launched the book last month with the help of local web, graphic design and print specialist, Runtime.  It gives dogs and their owners a series of walks to explore the beautiful Ironbridge Gorge, historic Coalbrookdale and the various dog-friendly routes in between, with £1 from each book bought online (if mentioned when ordering) going directly to Dogs Trust.
Written from the viewpoint of her beloved Kelpie/Border Collie cross, Boomerang, Karen has made this book not only useful, with walks for every ability and whim, but charming to read.  The walks contained in the book range from 1 mile (or 45 minutes) to 7.5 miles (or half a day) and include stops for water, pork pies and even beer, keeping both dogs and their owners happy.  Other useful information includes suggestions of areas where dogs can run free, maps including suggestions for places to stop to eat and drink, find water to play in and for owners to sit down and take in the surroundings.
Karen says: "I have raised money for Dogs Trust in the past and really wanted to do it again.  However, an illness meant that I had to come up with a new idea which allowed me to combine my love of dogs with something I'd always wanted to do.  It's been a long and challenging process to write and publish the book, but I'm over the moon with the result."
"I researched the book by taking Boomerang on walks around the area every Sunday and writing up each one when I got home.  I then asked friends to try the walks and write testimonials to put in the book (and a photo to make their dogs famous!)"
Karen hopes to produce a further book for the Shrewsbury area next, which she hopes to release before the end of the year.
Walking with Boomerang is on sale at outlets in and around Ironbridge and Coalbrookdale, local Just for Pets stores as well as the Dogs Trust Rehoming Centre in Roden for £4.99.  For each copy bought from Roden, £1 goes to Dogs Trust, the UK's largest dog welfare charity.  Visit http://www.boomerangbookstore.co.uk for stockists or to order online.