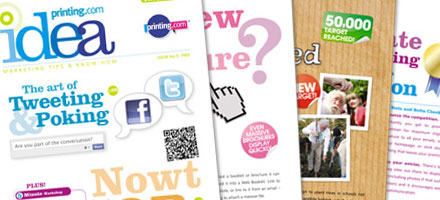 When you engage a graphic designer to create some marketing material for you, the quality of your brief will have a big influence on how long a job will take.  We've seen brand reference manuals the size of yellow pages and we've had clients who come in announcing they just like blue.  We can help all of them, but here are 7 pointers to get right in your head before engaging a graphic designer.
What's your objective for this piece?
What do you want to happen when a customer sees this work?  Pick up the phone, visit your website or fill in a reply slip?
What have you seen that you like?
No, you're not going to copy it, but it will help you identify elements that you like (and also don't like!) for example a coupon, or a map.
Get your pencils out!
Don't be scared to sketch out your ideas and make notes next to the elements.  We won't be critical of your art skills, this can really help formulate your ideas in your own head too.
What are you going to do with it?
10,000 leaflets are very inexpensive to print, but how are you going to get them in front of your customers?
Measuring success
How will you tell if this has worked?  We have lots of ideas that can help, but it's important to know how well your piece has worked.
Ask for help
Your graphic designer should be able to offer advice during your consultation, but remember that while you know your business better than anyone, we've got a good idea about what works and what doesn't.
Don't sweat the small stuff
If text is  10pt or 11pt, it really doesn't matter that much.  If you spend more than 10 mins deliberating on an element, ask yourself – 'How important is this to the recipient?' and be honest!
We love helping people get more out of their marketing, and it's worth spending a few quid on some decent design and being delighted with the results.  To arrange a free design consultation with one of the team, call 01952 457392.