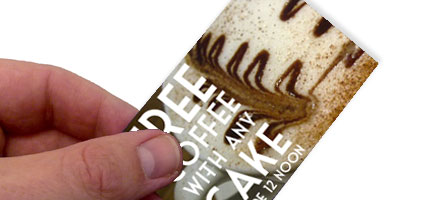 Loyalty or reward schemes are designed to get people to use your business rather than someone elses.  Often, these take the form of collector schemes but not always. These are different from customer referral schemes, which we'll tell you about another time.
1) Decide on your objective
What do you want to happen?  Do you want more business in your quiet times? Do you want people to spend more when they visit, or buy different things?
Example:
A restaurant starts opening in the mornings to serve coffees and cakes. They have a steady stream of clients who use the restaurant, who love what they do, but currently use other local cafes for coffees.  They are sure that some clients will want to use them anyway, but need to give them a reason to visit.
Objective: Encourage existing clients to try them out in the morning. It will be a success if we get 15 covers per day before 12noon.
2) Decide on your mechanic and reward
The mechanic is how the promotion will work.  The watchword here is don't make it too hard!  If you have to have three MOT tests to get one free, that would take years to collect!  The easier it is, the more successful it will be.
Collector schemes (like the McDonalds buy 6 coffees and get one free collector cards) work well with frequently purchased items.  Spend X and get a reward might work better with our restaurant example.
 
What can you afford to reward your customers loyalty with?  This will depend on your type of business.  For many businesses, the temptation is is to give away product that the customer would have bought in any case.  This can work well if the profit is good, and the product is a consumable. Don't forget that you can also give away items like promotional pens, trolley tokens or mugs.
Example:
The restaurant feels that while coffee is cheap to give away.  It would be better to at least get some revenue and so the mechanic would be: spend £10 or more and get a voucher for a free coffee when you buy any cake before 12 noon.  This is probably about a complicated as you want to go in this kind of establishment.  Remember the objective is to get existing lunch and dinner clients to visit in the morning.
The reward is simply a business-card with the new opening hours, a brief explanation of the free offer, a 'Thank you' for using us and 'the rule'. Simple, inexpensive and professional. The waitress would give these out with the bills, and they would be collected in the mornings and they were exchanged for the reward.  The rule?  Always have an expiry date.  Even if you don't stick rigidly to it, always have a date.  You can also use these to gather customer data, but thats for another time!
3) Measure the response rate
Using cards will enable you to track your redemption rate and therefore how successful the promotion was.  Remember, giving away the rewards is good!  The measure of success will be linked back to the objective.  Did we get our 15 covers per day?
So, how much will it cost to run this promotional activity?
Cost of 1000, full colour, double sided business cards to use as the voucher, plus a professional designer to make it look good: £160+vat.
Your giveways: £20 worth of coffee
So for under £200, you can start building your reward program today!
If you don't run a restaurant, we're happy to help you put a programme together for your business.