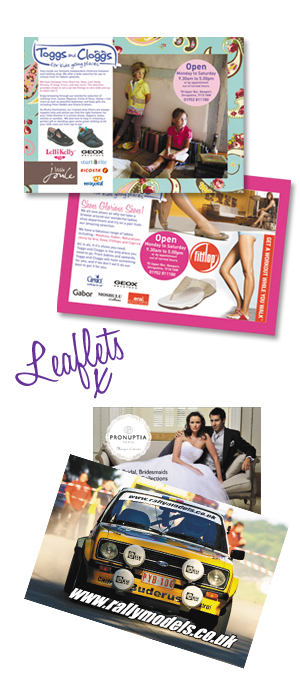 We design and print or just print all kinds of leaflets. It doesn't matter what kind of business you have, a leaflet is quick, easy and gets your message across for not a lot of money. When you are thinking of buying leaflets always consider how long you are expecting them to last. If you are giving them away at an exhibition on one day only, you can probably go for thinner paper than if you are printing a leaflet with a full years training course calendar on them. Also think about how you are going to distribute them. Have you ever tried to push a 100gsm leaflet through a letterbox, let alone 1,000 leaflets! It's easy to get carried away with quantity, because the price breaks favour large runs but don't order more than you can get through comfortably.
Some ideas on how to promote your businesses using leaflets include :
Put a leaflet in with your invoices to alert customers of extra services you might offer, or new products.
Find complimentary businesses to yours to pass your leaflets on for you.
Place leaflets where your customers or potential customers hang out.
Fix a leaflet holder outside your premises so that people can take them out of hours.
Put a voucher on your leaflet and track how many come back.
Put a leaflet in your product boxes offering discounts on future orders.
Come down and talk over your ideas with us: 01952 457392